Glaucoma Awareness Month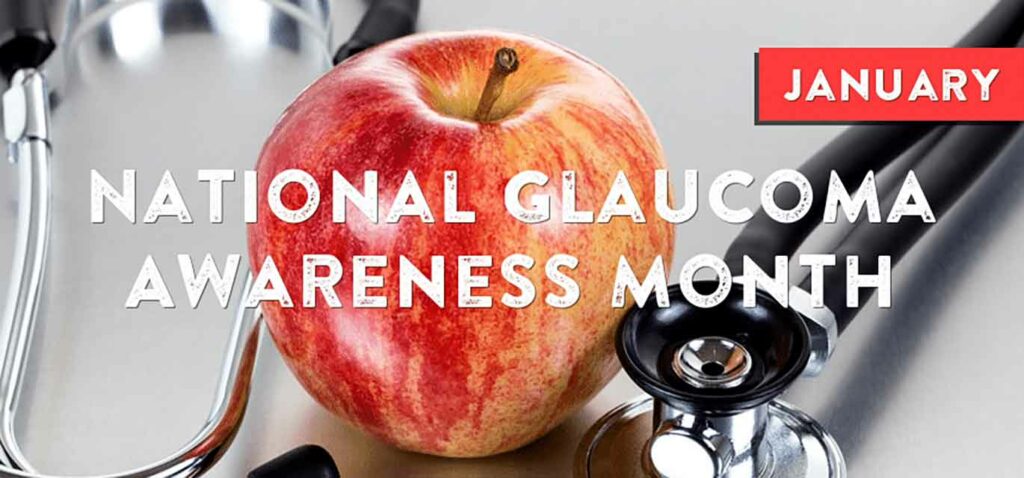 Glaucoma is the leading cause of irreversible vision loss in our country. An estimated 4 million people are affected. In the early stages of glaucoma, there are no noticeable symptoms, therefore people who are affected by this condition do not realize that their sight is very slowly diminishing. When there is the loss of vision from glaucoma it is permanent.
The American Academy of Ophthalmology has designated January "Glaucoma Awareness Month" to help educate the public on the importance of regular eye exams.
When glaucoma is caught in its earliest stage vision loss can be prevented due to the many treatment options available.
Types of Glaucoma:
The two most common types are open-angle and narrow-angle. There are also some rare types which include traumatic glaucoma, caused by an injury to the eye, and congenital which is glaucoma from birth. Approximately 90% of all glaucoma diagnoses are open-angle.
Open-angle glaucoma is the type that, in early stages, has no noticeable symptoms. The front of the eye or anterior chamber is filled with fluid (aqueous humor) that seeps through drainage canals to keep an even flow and an even pressure in the chamber. Sometimes those drainage canals become clogged and the fluid is not able to drain properly. When this occurs, it can cause damage to the back of the eye (optic nerve) and that is when sight can be threatened.
Narrow-angle glaucoma is when the iris, or colored part of the eye, blocks the drainage canals. When this occurs, it causes the pressure in the eye to rise suddenly. People develop symptoms such as eye pain, headache, blurred vision and even nausea with this type of glaucoma. Anyone experiencing these symptoms should see an ophthalmologist immediately.
There are risk factors involved such as a family history of glaucoma. African Americans over the age of 40 and Hispanics over the age of 60 are particularly susceptible. Glaucoma is generally associated with seniors, but anyone is at risk. Therefore regular eye exams are necessary to prevent damage to the optic nerve.
The physicians at Florida Vision Institute use state-of-the-art eye-mapping technology to analyze the problems with your eyesight as well as each eye's unique irregularities. Call us at 561-655-5056 to schedule your appointment today or visit our website at http://floridavisionlasik-px.rtrk.com
Florida Vision Institute
600 University Blvd #100
Jupiter, FL 33458
(561) 655-5056
© Copyright 2019. All Rights Reserved.